A new name and a new identity to enrich and innovate competencies once again and to widen the geography of our markets. Another challenge to transform our history into an idea of the future.
The really important moments in life leave such a profound mark that they can be described as moments of RE-birth. This is the sense of the name REKEEP, in which the prefix RE stresses and strengthens the sense of Manutencoop's story and of the original 1938 cooperative, and KEEP, with its meanings of hold, retain, preserve and continue, immediately makes the Group's mission spring to mind. Rekeep is a name conceived for an international audience, a simple, direct "sound" that sounds friendly and at the same time authoritative.
Rebranding video
RE stressed and reinforced the sense of the Group's history in the video shown in Milan when the new brand was unveiled.
The new name is presented in a contemporary print font in small letters only in order to draw attention to the direct tone with which the organization as a whole is intended to be imbued. The chosen color is green, which calls up an idea of cleanliness and efficiency; the trademark accompanying the logo is an open hand whose fingers, also because they are yellow, evoke the rays of the sun. An immediate symbol that intends to project an eighty-year-old story into the future, a story made of hands that work and take care of people and of the environment that they live in.
Under the logo, the company's real DNA, minds that work, the pay-off intended to mean that there is an intelligence that sets itself into motion before it acts, that plans before it executes.
Advertising campaign:
"Rekeep. A new name, a new identity, the same passion as always."
The leading Italian provider of support services to public and private organizations announces a change that has solid roots in a unique and personal style.
Posters in Piazza Maggiore in Bologna
Renaissance style portraits depict Rekeep employees, the real ones. People of value, knowledgeable, proud of their task, people who are aware of their long history, of their capacities and of their importance in an enterprise.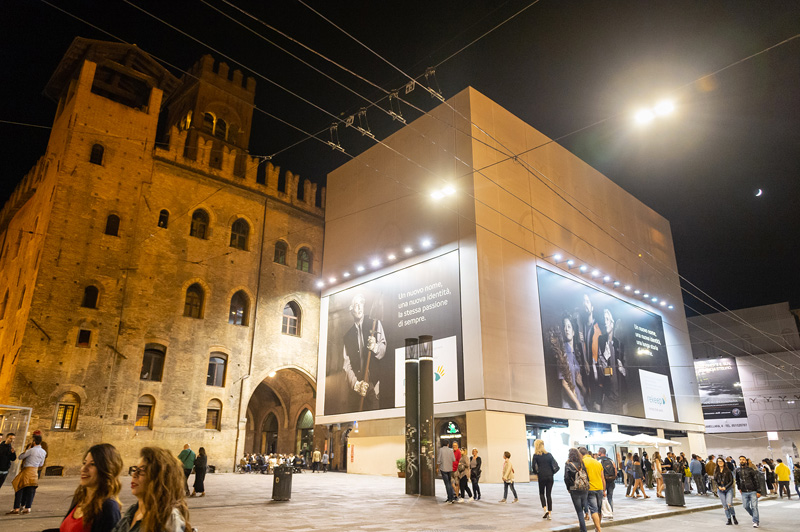 This is the indubitably original manner in which Manutencoop Facility Management announces the change of name to Rekeep.
A new identity, a new name, comes into being, but the passion is ancient because it was born many years ago, just as the headline announces in no uncertain terms.